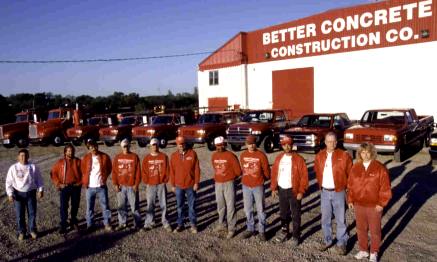 Better Concrete Construction Company (BCCC) is the number one choice for all of your concrete needs based on quality craftsmanship. We have over 30 years of
experience and reliability, using only the best products on the market for every project, using high durability rock and quality sealers, as well as a team that is thoroughly trained and experienced in all concrete aspects.
BCCC is located in Olathe, KS and serves the Kansas City area.
Always providing impeccable and skillful service from start to finish.
Our goal at Better Concrete Construction Company is to do the job perfect... the first time. We pride ourselves in having the most professional, eye appealing and durable concrete work in the Kansas City area. Mike Backman, the owner of BCCC, has been on the cover of Concrete Construction Magazine and has been featured in a full page article in the Kansas City Star for their superb work at the Lenexa Historical Society. We pride ourselves on having an outstanding record with the Better Business Bureau and we are also certified by the American Concrete Institute.
Contact us today for a FREE ESTIMATE at 913-390-8500 or click here for a full list of our concrete services.